Kutná Hora(UNESCO) and Žleby Castle (from April until October).
Kutná Hora is a part of the UNESCO WORLD Cultural Heritage and it is located approximately 70 km east of Prague. The history of Kutná Hora is inseparably connected with the mining of silver ores. The city became the centre of striking of the silver "groschen". It was one of the most stable currencies in Europe. At the end of the 13th century the mine at Kutná Hora was providing about one third of European production of silver. At the beginning of the 15th century , the local mine called "Osel" attained a depth of five hundred metres. The wealth of zhe local mines formed a basis for the power of the Czech kings.
Žleby Chateau was originally a castle founded in the second half of the 13th century. Among others the castle was owned by the Emperor Charles IV and by King Sigismund. During the centuries the chateau was rebuilt several times and today´s appearance it received thanks to his owner Vinzenz Karl Auersperg who was the most prominent builder of the Žleby chateau. Today Žleby chateau is one of the most charming Romantic buildings in Bohemia. In chateau interior you will see a rich collection of arms and armour (tournament armour from the first half of the 16th century, Saxon knight´s armour and complete set of horse harness), 188 glass paintings (the oldest item dates to 1503), the walls, covered in leather with blue and gold decoration, late Gothic wooden panelling, old tiled stoves, unique kitchen (fittings are coming from the end of 19th century and are still functional).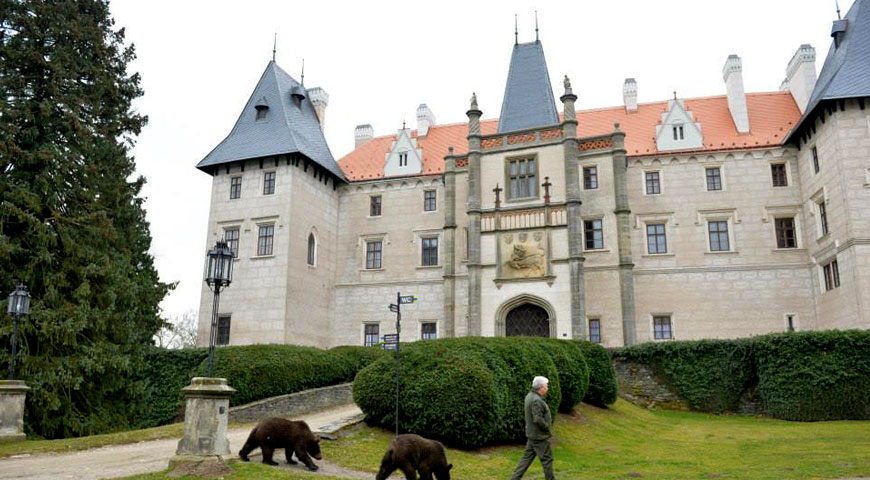 Tour category: by minibus
Time of duration: 8 hours
Available: English/Russian speaking guide, minibus, driver.
Price: 380 EUR (1-3 persons), 450 EUR (4-6 persons). For persons more, please, ask for price offer.
The Entrance tickets are not included in the price and are paid separately.
Tour includes visit of the St. Barbora Cathedral and Ossuary in Kutná Hora- entrance ticket 160 CZK ( 8 EUR)/1 person.
Žleby Chateau - entrance ticket 240 CZK (11 EUR)/1 person.