Český Krumlov and Hluboká nad Vltavou Chateau (throught the year).
Český Krumlov is a picturesque medieval town located in Southern Bohemia. The town was founded in the 13th century and dates from 1253. At the beginning of its foundation the place is called "Crumbenowe" in old-German or "castrum Crumnau" in Latin. Český Krumlov Castle and Chateau was the main residence of the such noble families as the Lords of Krumlov, the powerful Rožmberk family, Eggenberg and Scwarzenberg families. Český Krumlov Castle is the second largest castle in the country after Prague Castle. Today this enormous complex, created throughout the ages, constitutes an outstanding ancient monument.
Hluboká nad Vltavou Castle is one of the most beautiful castles in the Czech Republic where fairy tale is a true. The originally Gothic castle was founded in the middle of the 13th century probably by Václav I as a royal castle to stop the spread of the political power of the Vítkovec noble family in Southern Bohemia. As a royal castle Hluboká nad Vltavou was owned by such Czech kings as Přemysl Otakar II, John of Luxembourg, Ferdinand II. New period of the castle starts in 1661 when the castle was bought by John Adolph I Schwarzenberg. During centuries the Castle was changed into the main seat of Schwarzenberg family in Bohemia. Hluboká Castle is very famous thanks to the Flemish tapestries, wooden walls, collection of armours, arms, gilded and painted ceiling, library, unique kitchen.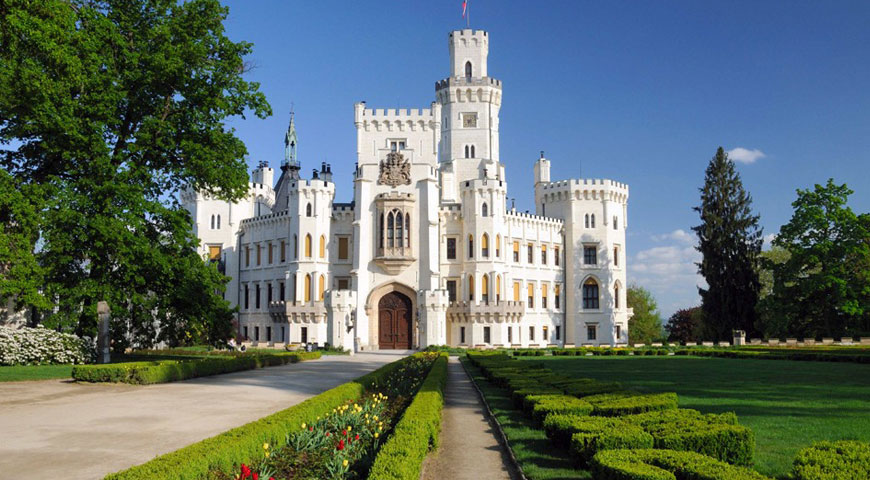 Tour category: by minibus
Time of duration: 11 hours
Available: English/Russian speaking guide, minibus, driver.
Price: 500 EUR (1-3 persons), 600 EUR (4-6 persons). For more persons, please,ask for price offer.
Tour includes visit of the Hluboká Castle interiors. The entrance tickets are paid separately. Price is 240,-CZK (11 EUR)/1 person.